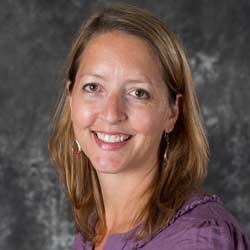 September 21, 2017 – Cypress, CA – Dr. Heather Luea has been named the new Department Chair for Finance, Economics, and Accounting in Trident University International's (Trident) Glenn R. Jones College of Business. She joined Trident earlier this year as a faculty member, teaching Financial Accounting and Managerial Accounting.
Dr. Luea has a wealth of academic experience, including lecturer positions at Vanderbilt University; University of California-Berkeley, and Kansas State University; Department Chair at Kaplan University; and Assistant Professor at Tennessee State University.
During her years in academia she developed a reputation for her student-first approach. She has been acknowledged for teaching excellence multiple times, and has served as a thesis advisor.
Dr. Luea is a talented, multi-faceted academic who has positively impacted the lives of many students. Her attitude and willingness to challenge students meshes perfectly with Trident's ethos.
Dr. Debra Louis, Dean, Trident's Glenn R. Jones School of Business
Dr. Luea has significant course development, content review, and research experience. She has been published in a number of journals, including Journal of Housing Economics and Contemporary Economic Policy, and has served as a subject matter expert for multiple textbooks and course materials. She is currently a reviewer for Real Estate Economics.
An accomplished researcher, Dr. Luea has presented research at several conferences and meetings, including the American Economic Association Annual Meeting, the American Real Estate and Urban Economics Annual Meeting, and the Western Economic Association International Meetings.
Her research interests include housing and healthcare markets, homeownership, and fringe banking services.
Dr. Luea holds a Ph.D. in Economics from Kansas State University. She earned a Master of Business Administration from Wichita State University, and a Bachelor of Arts in Finance from Fort Hays State University.
The 100% online Trident has been in operation since 1998 and is regionally accredited by the WASC Senior College and University Commission (WSCUC). Active duty military, veterans, National Guard, and military dependents make up 79% of the University's student population, and Trident is proud to employ many veterans at its faculty, staff, and management levels. Of Trident's 32,000 alumni, more than 27,000 have a military affiliation.
About Trident University 
Founded in 1998, Trident University International (Trident) is a leading online post-secondary university serving adult learners. Trident developed the Trident Learning Model, which employs case-based learning in an online setting to teach real-world relevant critical thinking skills to enhance student's lives and careers. Trident offers high-quality bachelors, masters, and doctoral degree programs, led by a qualified faculty team, over 80% of whom have doctoral degrees. Visit www.trident.edu, Trident's Facebook page, or call at to learn more about Trident's wide range of program offerings.