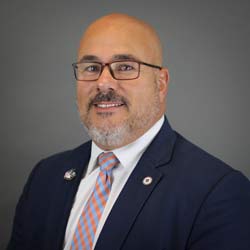 April 27, 2017 – Cypress, CA – Trident University International (Trident) is proud to announce that Emanuel "Manny" Sepulveda has been named the new Manager of the Center for Career Planning and Workforce Strategies.
Sepulveda assumes this role on May 1st, 2017. He joined Trident in 2013 and previously was the Regional Manager of Strategic Military and Community Relations for the Mid-Atlantic region of the United States.
The experience and passion Manny brings to the table as Manager of Trident's Center for Career Planning and Workforce Strategies is undeniable. Our students and alumni will be in good hands.
Esmerlada Silva, Vice President of Outreach and Strategic Alliances
Born in Puerto Rico and raised in Hoboken, New Jersey, Sepulveda enlisted in the U.S. Navy in 1988. While enlisted, he earned two Navy Marine Corps Commendation Medals, nine Navy and Marine Corps Achievement Medals, and various unit and campaign awards. He served on submarine duty in the Mediterranean and the Arctic and as a counselor recruiter.
As a counselor recruiter, Sepulveda worked closely with the men and women in his unit, offering career guidance and development. This role allowed him to advise petty officers projected to reenlist and those who were planning to transition into civilian roles.
Being a military veteran, Sepulveda understands firsthand the career challenges that face many in the Trident community. During his time at the University, he has assisted scores of men and women – both active duty and veterans – with career choices at education fairs, conferences, and events like Centurion Military Alliance's Warrior Transition Readiness Program.
"The most important thing to remember when you're preparing to leave the service is that no matter where you're networking or who you seek out for advice, you're always on an interview," Sepulveda stated. "If you treat it like that and maintain a positive attitude, you'll do a lot of good for yourself."
Sepulveda earned a Bachelor of Science in Business Administration with a concentration in Human Resources from Trident in 2011.
Trident, a 100% online university that has been in operation since 1998, is regionally accredited by the WASC Senior College and University Commission (WSCUC). Active duty military, veterans, National Guard, and military dependents make up 79% of the University's student population, and Trident is proud to employ many veterans at its faculty, staff, and management levels. Of Trident's 32,000 alumni, more than 27,000 have a military affiliation.
About Trident University 
Founded in 1998, Trident University International (Trident) is a leading online post-secondary university serving adult learners. Trident developed the Trident Learning Model, which employs case-based learning in an online setting to teach real-world relevant critical thinking skills to enhance student's lives and careers. Trident offers high-quality bachelors, masters, and doctoral degree programs, led by a qualified faculty team, over 80% of whom have doctoral degrees. Visit www.trident.edu, Trident's Facebook page, or call at to learn more about Trident's wide range of program offerings.