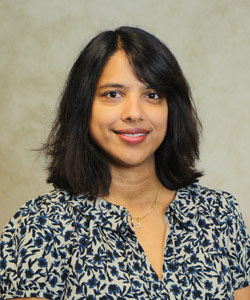 August 21, 2017 – Cypress, CA – Dr. Lisa Mohanty has been named Dean of Trident University International's (Trident) University College, effective August 14th.
Dr. Mohanty, who joined Trident in 2008, previously served as Associate Vice President for Institutional Effectiveness and New Programs. Prior to that she was Department Chair for Student Orientation and Social Sciences in University College. Some of the other roles she has held include Associate Coordinating Professor and Program Director for General Education.
During her time at Trident, Dr. Mohanty's leadership and student-first approach has helped to build a culture of academic excellence. Her commitment to Trident's core values will help University College to see continued success in the coming years.
Dr. Mihaela Tanasescu, Provost and Chief Academic Officer
In addition, Dr. Mohanty has played a key role in course development and academic administration at Trident, having served as chair of both the Curriculum Committee and General Education Committee.
Dr. Mohanty is an experienced researcher whose areas of expertise include economics, business administration, and feminist economics. In 2013, she was invited to the UN (United Nations) Women to present her paper "Race, Power, and the Subprime/Foreclosure Crisis: A Meso Analysis" and published a paper on polygyny in Feminist Economics.
Her dedication to her work and students was recognized in 2015 with an Award for Academic Excellence, presented by Trident's Board of Trustees.
Trident, a 100% online university that has been in operation since 1998, is regionally accredited by the WASC Senior College and University Commission (WSCUC). Active duty military, veterans, National Guard, and military dependents make up 79% of the University's student population, and Trident is proud to employ many veterans at its faculty, staff, and management levels. Of Trident's 32,000 alumni, more than 27,000 have a military affiliation.
About Trident University 
Founded in 1998, Trident University International (Trident) is a leading online post-secondary university serving adult learners. Trident developed the Trident Learning Model, which employs case-based learning in an online setting to teach real-world relevant critical thinking skills to enhance student's lives and careers. Trident offers high-quality bachelors, masters, and doctoral degree programs, led by a qualified faculty team, over 80% of whom have doctoral degrees. Visit www.trident.edu, Trident's Facebook page, or call at to learn more about Trident's wide range of program offerings.