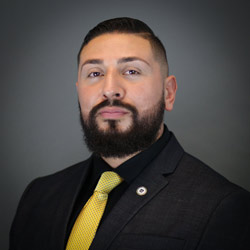 August 24, 2017 – Cypress, CA – Trident University International's (Trident) Outreach & Partnerships department would like to announce the addition of Israel Reyes as Regional Manager of Strategic Military & Community Relations. He assumed this position in June and oversees the Mid-Atlantic and Northeast regions of the U.S.
In this role, Reyes will work directly with military installations, businesses, and community organizations to help them address various collective and individualized educational needs.
Reyes is a 7-year veteran of the United States Army, including four years on active duty and three years in the National Guard. He served as a combat medic and healthcare specialist, where he trained war fighters across all branches of the Combat Lifesaver Force. His combat experiences include Operations Iraqi Freedom and Operation Enduring Freedom.
Passionate about education and its power to positively impact individuals and their communities, Reyes enjoys learning as much as he enjoys sharing the benefits of education with others. He holds a Bachelor of Science in Business from the University of Phoenix and is currently enrolled in the Master of Science in Executive Leadership program at Liberty University.
With his love of learning and understanding of the Trident student experience, I expect Israel to quickly impact the communities in which he serves.
Esmeralda Silva, Vice President of Outreach and Strategic Alliances
Reyes previously worked at Grand Canyon University in Phoenix, AZ as a University Development Counselor, serving in the Military Division, and as a Military Admissions Officer at Vista College in El Paso, TX.
Additionally, Reyes is fluent in Spanish. In the future he would like to complete a doctoral degree, crediting his 10-year old son and 5-year old daughter as being the motivation for achieving this goal.
Trident, a 100% online university that has been in operation since 1998, is regionally accredited by the WASC Senior College and University Commission (WSCUC). Active duty military, veterans, National Guard, and military dependents make up 79% of the University's student population, and Trident is proud to employ many veterans at its faculty, staff, and management levels. Of Trident's 32,000 alumni, more than 27,000 have a military affiliation.
About Trident University 
Founded in 1998, Trident University International (Trident) is a leading online post-secondary university serving adult learners. Trident developed the Trident Learning Model, which employs case-based learning in an online setting to teach real-world relevant critical thinking skills to enhance student's lives and careers. Trident offers high-quality bachelors, masters, and doctoral degree programs, led by a qualified faculty team, over 80% of whom have doctoral degrees. Visit www.trident.edu, Trident's Facebook page, or call at to learn more about Trident's wide range of program offerings.