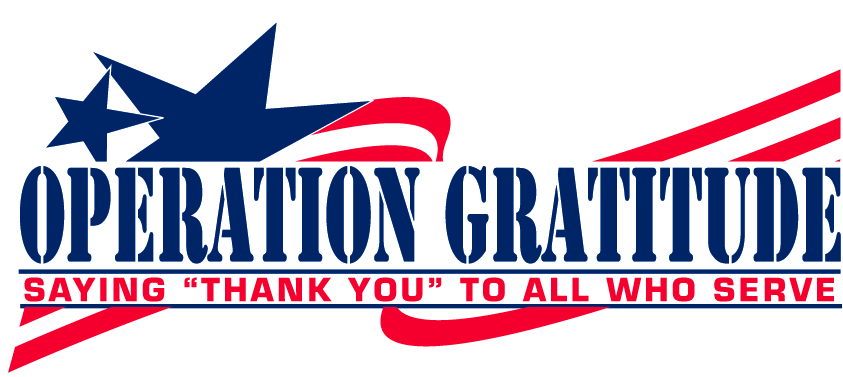 This is an opportunity for the University, its students and alumni, and the surrounding community to send note of appreciation to active service members this holiday season.
December 2, 2016 – Cypress, CA – On December 9th, Trident University International (Trident) will host their second annual event to support Operation Gratitude, a non-profit, volunteer organization focused on lifting the spirits and meeting the evolving needs of the military and first responder communities.
The event will be held on Trident's Cypress campus, with the goal of preparing 2,150 letters, cards, and notes for those who are currently serving and those who have served in the United States military.
Last year's event, held in September, was a major success that saw Trident and the local community come together to produce over 1,200 letters. In attendance were several local businesses, as well as former California State Assemblywoman Young Kim (R-Buena Park).
Trident has had a long-time commitment to educating the men and women that serve in our armed services using its unique student-centered pedagogical model. In addition to providing items of need to military personnel, Operation Gratitude gives us an opportunity to convey to these men and women that the University and surrounding community cares about them and appreciates the service they are performing for our great nation.
Esmeralda Silva, Vice President, Outreach and Strategic Alliances
This is a cause close to the hearts of the entire Trident community, as students who are active duty, veteran, dependents, or in the National Guard make up 79% of the University's currently enrolled population. Each note – which takes just a few minutes to write – is a small token of appreciation and just one of the ways that Trident shows appreciation for both military and veteran populations.
Trident, a 100% online university that has been in operation since 1998, is regionally accredited by the WASC Senior College and University Commission (WSCUC). Active duty military, veterans, National Guard, and military dependents make up 79% of the University's student population, and Trident is proud to employ many veterans at its faculty, staff, and management levels. Of Trident's 32,000 alumni, more than 27,000 have a military affiliation.
About Operation Gratitude
Operation Gratitude sends over 150,000 care packages each year to deployed troops, veterans, new recruits, wounded soldiers, and their caregivers. These packages, which are highly sought after by recipients, contain food, personal hygiene products, entertainment items, and homemade articles, all of which are meant to ease the emotional burden of being separated from loved ones. Through collection drives, letter writing campaigns, and care package assembly, Operation Gratitude provides civilians in America a way to say "thank you" through active, hands-on localized events. Operation Gratitude is a 501(c)(3) non-profit, volunteer-based corporation, funded entirely by private donations. Since its inception in March of 2003, Operation Gratitude volunteers have assembled and shipped more than one million care packages.
About Trident University 
Founded in 1998, Trident University International (Trident) is a leading online post-secondary university serving adult learners. Trident developed the Trident Learning Model, which employs case-based learning in an online setting to teach real-world relevant critical thinking skills to enhance the lives and careers of students. Trident offers high-quality bachelors, masters, and doctoral degree programs, led by a qualified faculty team, over 80% of whom have doctoral degrees. Visit www.trident.edu, Trident's Facebook page, or call at to learn more about Trident's wide range of program offerings. Trident is regionally accredited by the WASC Senior College and University Commission (WSCUC).