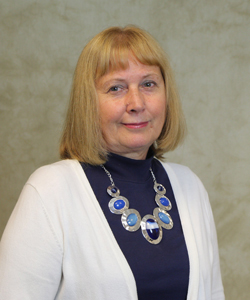 December 8, 2017 – Cypress, CA – Trident University International (Trident) today announced that Dr. Sharon Nazarchuk, R.N. was awarded the Teaching Excellence Award for summer 2017.
Dr. Nazarchuk was selected from among 41 Trident faculty members by both students and the University's faculty leadership team.
"Dr. Nazarchuk is a true living example of Trident's values, mission, vision, and promise, being an inspiration, a role model, a compassionate and caring professor with high academic standards. Her commitment to excellence and student success, made the course a great and unique learning experience," said Rodica Vasilescu, student in Trident's Ph.D. in Health Sciences program.
With a solid background in health care and nearly 20 years of teaching experience, Dr. Nazarchuk was instrumental in developing the university's Bachelor of Science in Health Administration (BSHA) program.
Dr. Nazarchuk is known for working closely with her students to develop their intellectual and professional talents, and ultimately helping them reach their professional goals. The fact that Trident's student body selected Dr. Nazarchuk for this honor is evidence of her continued success.
Dr. Mihaela Tanasescu, Trident's Provost and Chief Academic Officer
The BSHA program is designed for students seeking entry to mid-level positions in healthcare administration, and is structured to give degree holders an understanding of the research, evaluation, and data used by decision makers and managers in hospitals and other healthcare institutions.
Dr. Nazarchuk holds a Ph.D. in Sociology and Master of Arts in Sociology degrees from the State University of New York, as well as Master of Health Administration and Bachelor of Science degrees from Wilkes University. In addition, she holds a diploma in professional nursing from Mercy Hospital School of Nursing.
About Trident University 
Founded in 1998, Trident University International (Trident) is a leading online postsecondary university serving adult learners. Trident uses the EdActive learning approach, which employs case-based learning in an online setting to teach real-world relevant critical thinking skills to enhance the lives and careers of students. Trident offers high-quality bachelors, masters, and doctoral degree programs and certificates, led by a qualified faculty team, over 80% of whom have doctoral degrees. Trident is regionally accredited by the WASC Senior College and University Commission (WSCUC) and has over 32,000 alumni, including more than 27,000 with a military affiliation. The University has received multiple acknowledgements from Military Times, Victory Media's Military Friendly Schools, and Military Advanced Education & Transition for their dedication to military-affiliated students. Visit www.trident.edu, Trident's Facebook page, or call at to learn more about Trident's wide range of educational options.