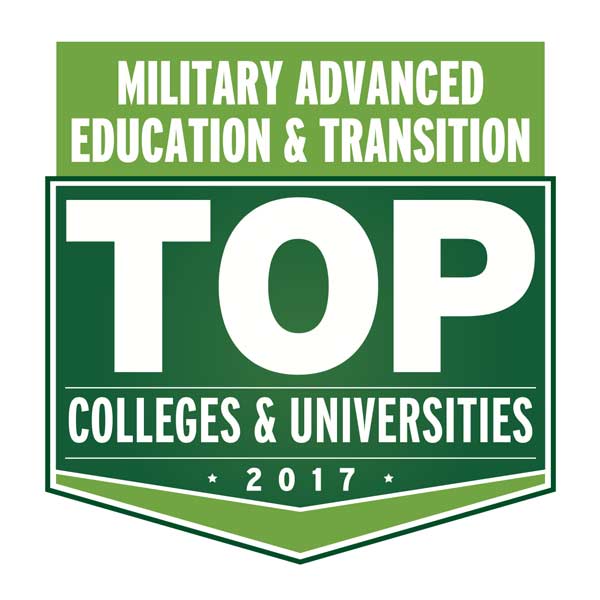 December 9, 2016 – Cypress, CA – Military Advanced Education & Transition (MAE&T) has awarded Trident University International (Trident) the designation of a Top School in its 2017 Guide to Colleges & Universities, measuring best practices in military and veteran education. The Guide is to be released this December, and will be available online at www.mae-kmi.com.
The Guide presents results of a questionnaire of the military-supportive policies enacted at hundreds of institutions including private, public, for-profit, not-for-profit, four-year, and two-year colleges. From community colleges to state universities, online universities and nationally known centers of higher learning, MAE&T's 2017 Guide to Colleges & Universities arms students with information about institutions that go out of their way to give back to our men and women in uniform.
"As Trident approaches two decades in existence, our commitment to the education of military and veteran students grows stronger each year. Creating a positive student experience is our top priority, making us honored to be acknowledged as a Top School," said Esmeralda Silva, Vice President of Outreach & Strategic Alliances.
Now in its tenth year of publishing the Guide, MAE&T was the first publication to launch a reference tool of this type. This year, institutes were evaluated on their military culture, financial aid, flexibility, general support, on-campus support and online support services. Each school's performance rating by category is represented by an easy-to-recognize dashboard. This enables prospective students to quickly target schools that follow best practices in military education, and then put these in context with other academic or career considerations.
"MAE&T's Guide to Colleges and Universities provides the foundational information a prospective student would use in framing his or her educational needs," said Kelly Fodel, Military Advanced Education & Transition's editor-in-chief. "We want to be a dynamic resource for those looking to further their educations and careers. A key part of that is finding the right school, and it can be a confusing process for military members to navigate."
The 2017 Guide is printed in the December issue of Military Advanced Education & Transition, and is also published in a searchable database online. Students have access to all the survey questions and answers provided by the schools, as well as explanations about critical issues like activation and deployment policies, withdrawal policies, scholarship and financial aid information and important support information.
"There are many different variables by which you could evaluate an institution, but we focus on the best practices that have been asserted by various higher education groups and reinforced by veteran groups. These best practices assure students that they have a high chance of success and support at their school of choice," said Fodel. "That's why we consider our survey to be the most detailed and informative in the industry."
Visit www.mae-kmi.com for online access to MAE&T's 2017 Guide to Colleges and Universities, or pick up a copy of the December issue of Military Advanced Education & Transition.
Trident, a 100% online university that has been in operation since 1998, is regionally accredited by the WASC Senior College and University Commission (WSCUC). Active duty military, veterans, National Guard, and military dependents make up 79% of the University's student population, and Trident is proud to employ many veterans at its faculty, staff, and management levels. Of Trident's 32,000 alumni, more than 27,000 have a military affiliation.
About Trident University 
Founded in 1998, Trident University International (Trident) is a leading online post-secondary university serving adult learners. Trident developed the Trident Learning Model, which employs case-based learning in an online setting to teach real-world relevant critical thinking skills to enhance the lives and careers of students. Trident offers high-quality bachelors, masters, and doctoral degree programs, led by a qualified faculty team, over 80% of whom have doctoral degrees. Visit www.trident.edu, Trident's Facebook page, or call at to learn more about Trident's wide range of program offerings. Trident is regionally accredited by the WASC Senior College and University Commission (WSCUC).
About Military Advanced Education & Transition
Military Advanced Education & Transition (www.mae-kmi.com) is the journal of higher education for servicemembers and veterans making the transition from military to the civilian sector. Covering issues and hot topics in higher education, career trends, transition assistance, innovative programs, and schools of special interest to the military, MAE&T focuses on news and resources that will empower a military student to pursue a quality education and rewarding career. MAE&T serves education services officers (ESOs) and transition officers (TOs) at every U.S. military installation, along with the servicemembers they counsel. Published 10 times yearly, MAE&T's editorial coverage includes exclusive interviews with military executive leadership, educators, and members of Congress; best practices; career and transition spotlights, servicemember, school, and program profiles, and periodic special reports.