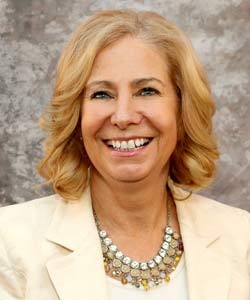 February 5, 2015 – Cypress, CA – The Los Altos Town Crier has named Trident University International's (Trident) Board of Trustees member Dr. Kathryn S. Hanson its 2014 "Los Altan of the Year." The Los Altos Town Crier has been published since 1947 and serves Los Altos, CA and surrounding communities.
Dr. Hanson joined Trident's Board of Trustees in 2008.
A full feature on Dr. Hanson appeared in the January 7th edition of the Town Crier. An invitation-only dinner honoring her was held on January 16th at the Fremont Hills Country Club in Los Altos Hills, CA. She has resided in Los Altos for 33 years.
As an educator and business professional, helping non-traditional and underprivileged students has been a passion of mine. Founding ALearn and serving as its CEO allows me to guide students from many walks of life to success in higher education, and it's this same passion that I bring as a member of Trident's Board of Trustees. I am very humbled to have won this award.
Dr. Kathryn S. Hanson, Trident University Board of Trustees
Dr. Hanson is the founder and CEO of ALearn, an educational non-profit organization whose goal is to increase the number of underprivileged students who have access to high level learning programs throughout their K-12 years. Through this educational access, ALearn has prepared more than 6,500 students for future success in higher education since 2007.
She was influenced by her experiences as a youth, when Hanson's mother put herself through college, her physician father accepted carts of fruit as payment for treating poor migrant workers, and her mother-in-law helped Vietnamese immigrants through her parish.
Prior to ALearn, Dr. Hanson was president of The Hanson Group, a strategy and marketing consulting firm for high technology and Internet companies. Her clients included companies such as Hewlett-Packard, Sun, Silicon Graphics, National Semiconductor, and many Internet and software companies.
Additionally, Dr. Hanson was a founder of eMentoring, which is an e-learning company that merged into Pensare. She was also a co-founder of Satmetrix, a leading customer experience management (CEM) software company. She is a former board member of the Resource Area for Teaching (RAFT), which serves more than 7,500 teachers throughout California's Bay Area.
Dr. Hanson earned both a Ph.D. and M.A. in English from the University of Chicago. She earned an MBA with distinction from Harvard University and a B.A. with distinction from Stanford University.
About Trident UniversityFounded in 1998, Trident University International (Trident) is a leading online post-secondary university serving adult learners. Trident developed the Trident Learning Model, which employs case-based learning in an online setting to teach real-world relevant critical thinking skills to enhance student's lives and careers. Trident offers high-quality bachelors, masters, and doctoral degree programs, led by a qualified faculty team, over 80% of whom have doctoral degrees. Visit www.trident.edu, Trident's Facebook page, or call at to learn more about Trident's wide range of program offerings.