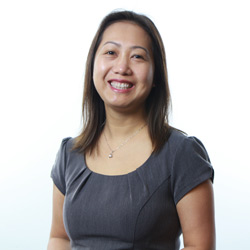 January 31, 2017 – Cypress, CA – Dr. Qin Sun, a faculty member at the 100% online Trident University International (Trident), recently published "LearnSmart, adaptive teaching, and student learning effectiveness: An empirical investigation" in the Journal of Education for Business. Co-authors of the article are Dr. Yann Abdourzakou and Dr. Thomas J. Norman.
Another paper from the same research project was presented in October 2016 at the Marketing EDGE Direct/Interactive Marketing Research Summit in Los Angeles, CA. Dr. Sun and her co-authors looked at the online interactive learning tool LearnSmart and examined its impact on student learning effectiveness.
Dr. Sun found this to be a critical area to explore. The key conclusion from this analysis was that the LearnSmart tool improved students' perceived classroom competency, with the instructor playing a significant role as a learning facilitator.
Dr. Sun is an associate professor and chair of the Marketing, Logistics, and Operations Department in Trident's Glenn R. Jones College of Business.
Dr. Sun is a graduate of University of North Texas' Ph.D. in Marketing program. She earned an MBA at California State University, Dominguez Hills, and a Bachelor of Arts in Philosophy at Beijing Normal University, China.
Active in academic research, Dr. Sun has published 11 journal papers in the past six years. Last year her article titled "Country Resources, Institutions, Image and Exports: Country Branding Implications" was published in Journal of Global Marketing. She serves on the Editorial Review Board of the Journal of Asia Business Studies and Journal of Global Marketing.
She is also a reviewer for various journals and conferences such as Journal of Product and Brand Management, International Business Review, Journal of Consumer Behaviour, Academy of Marketing Science Annual Conferences, and American Marketing Association Educators' Conferences.
Dr. Sun's research interests include country branding and country-of-origin image, cross-cultural marketing, bicultural/multicultural consumers, teaching innovation, e-commerce, electronic word of mouth, mobile marketing, and social media marketing.
About Trident University 
Founded in 1998, Trident University International (Trident) is a leading online post-secondary university serving adult learners. Trident developed the Trident Learning Model, which employs case-based learning in an online setting to teach real-world relevant critical thinking skills to enhance student's lives and careers. Trident offers high-quality bachelors, masters, and doctoral degree programs, led by a qualified faculty team, over 80% of whom have doctoral degrees. Visit www.trident.edu, Trident's Facebook page, or call at to learn more about Trident's wide range of program offerings.