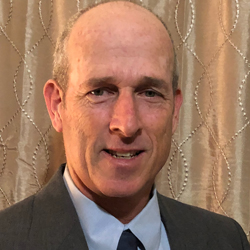 January 8, 2019 – Cypress, CA – Trident University International (Trident) faculty member Dr. Michael Allison recently published the article, "Bend, Don't Break: Optimizing a Resilient Supply Chain" in the journal Exceptional Release (Vol. 146).
Published quarterly by the Logistics Officers Association for over 30 years, Exceptional Release is an award-winning, peer-reviewed journal. He has been published in both professional and academic publications, and is a guest lecturer at a number of universities and professional organizations.
In this article, Dr. Allison and co-authors examine logistical concerns faced within military combat situations. Through the consideration of historical challenges and available technology, the authors seek to understand how a responsive and resilient supply chain can cost-effectively support warfighters, and how supply chains can evolve to meet these goals in the future.
Dr. Allison joined Trident in 2003, and currently instructs in the Glenn R. Jones College of Business. His areas of expertise include information overload and anxiety, quality and process improvement, production sciences, ethics, high performing teams, and leadership.
Dr. Allison has served in the U.S. Armed Forces for over 30 years where he has received numerous commendations for his exemplary service.
Dr. Allison earned a Ph.D. in Business Administration from Touro University International. He holds three masters degrees – in strategic studies, political and military affairs, and logistics management, and a Bachelor of Science in Professional Aeronautics from Embry-Riddle Aeronautical University.
About Trident University 
Founded in 1998, Trident University International (Trident) is a leading online postsecondary university serving adult learners. Trident uses the EdActive™ learning approach, which employs case-based learning in an online setting to teach real-world relevant critical thinking skills to enhance the lives and careers of students. Trident offers high-quality bachelors, masters, and doctoral degree programs and certificates, led by a qualified faculty team, over 80% of whom have doctoral degrees. Trident is regionally accredited by the WASC Senior College and University Commission (WSCUC) and has over 32,000 alumni, including more than 27,000 with a military affiliation. The University has received multiple acknowledgements from Military Times, Victory Media's Military Friendly Schools, and Military Advanced Education & Transition for their dedication to military-affiliated students. Visit www.trident.edu, Trident's Facebook page, or call at to learn more about Trident's wide range of educational options.