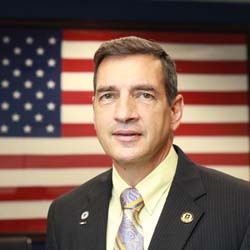 July 11, 2019 – Cypress, CA – Philip F. Johndrow, Trident University International's (Trident) National Director of Military and Veteran Alliances, served as keynote speaker during the United States Army Sergeants Major Academy (USASMA) at the NCO Leadership Center of Excellence official accreditation ceremony on June 14th in Fort Bliss, TX.
This ceremony marked the USASMA receiving an accreditation through the Higher Learning Commission, as well as being named as a branch campus under the Command and General Staff College. As part of his keynote, Johndrow introduced the Academy's new Bachelor of Arts in Leadership in Workforce Development diploma.
A strong believer in the power of education, Johndrow was honored to be on hand to mark this historic milestone, urging those in attendance to embrace this leadership opportunity.
"We must develop and exercise our minds just as we exercise our bodies," Johndrow remarked. "Education is PT for the mind."
Johndrow joined Trident as a student in 2007 while still on active duty, eventually earning two degrees. He holds a Master of Business Administration and a Bachelors of Science in Business Administration, graduating both summa cum laude.
Outside of his work at Trident, Johndrow actively presents for military and corporate audiences, speaking on topics such as critical thinking, leadership development, and the value of military veterans in the corporate world. He is a member of Centurion Military Alliance, The Association of the United States Army, and The National Historical Foundation.
About Trident University 
Founded in 1998, Trident University International (Trident) is a leading online postsecondary university serving adult learners. Trident uses the EdActive™ learning approach, which employs case-based learning in an online setting to teach real-world relevant critical thinking skills to enhance the lives and careers of students. Trident offers high-quality bachelors, masters, and doctoral degree programs and certificates, led by a qualified faculty team, over 80% of whom have doctoral degrees. Trident is regionally accredited by the WASC Senior College and University Commission (WSCUC) and has over 32,000 alumni, including more than 27,000 with a military affiliation. The University has received multiple acknowledgements from Military Times, Victory Media's Military Friendly Schools, and Military Advanced Education & Transition for their dedication to military-affiliated students. Visit www.trident.edu, Trident's Facebook page, or call at to learn more about Trident's wide range of educational options.