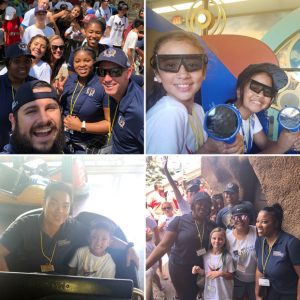 July 17, 2019 – Cypress, CA – Trident University International (Trident) is happy to announce that for the fourth consecutive year, it will be hosting a Gary Sinise Foundation's Snowball Express event, which will be held on Saturday, July 20 at Six Flags Magic Mountain in Valencia, CA.
Since 2006, Snowball Express has provided hope and new happy memories to the children of military fallen heroes who have died while on active duty since 9/11. In 2017, Snowball Express became an official Gary Sinise Foundation program. Further, the event connects the children and surviving spouses of the fallen with others going through the same experience.
Over the past three years, Trident's Snowball Family Adventure has served hundreds of guests from military families and has been championed by the local community. Additional support has come from officeholders at the federal, state, and municipal levels. With over 75% of its students and alumni network in the military or military-affiliated, Trident remains a strong supporter of military and veterans causes.
"Snowball Family Adventure is always an exciting time because it allows us to meet members of the Snowball family and give back to the military community," stated Travis Allen, President and CEO of Trident. "These families have made great sacrifices for our country, and we are honored to support them through events like this."
In addition to Snowball Express, Trident has partnered with other local and national military and veterans organizations over the course of its 21-year history. In January, Trident was named the 2018 BRACE Business of the Year by the City of Cypress, CA for its philanthropic work within the community.
Complimentary tickets are available for military families on a first-come, first-served basis. For information, visit: https://donate.garysinisefoundation.org/TridentUniversity2019.
About Trident University 
Founded in 1998, Trident University International (Trident) is a leading online postsecondary university serving adult learners. Trident uses the EdActive™ learning approach, which employs case-based learning in an online setting to teach real-world relevant critical thinking skills to enhance the lives and careers of students. Trident offers high-quality bachelors, masters, and doctoral degree programs and certificates, led by a qualified faculty team, over 80% of whom have doctoral degrees. Trident is regionally accredited by the WASC Senior College and University Commission (WSCUC) and has over 32,000 alumni, including more than 27,000 with a military affiliation. The University has received multiple acknowledgements from Military Times, Victory Media's Military Friendly Schools, and Military Advanced Education & Transition for their dedication to military-affiliated students. Visit www.trident.edu, Trident's Facebook page, or call at to learn more about Trident's wide range of educational options.