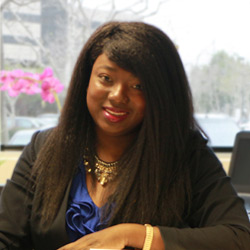 March 2, 2016 – Cypress, CA – Dr. Bernice B. Rumala, Program Director of Trident University International's (Trident) Ph.D. in Health Sciences program, is slated to present at the Ensure Justice Conference on March 4-5 in Costa Mesa, CA. This year's theme is "A Marathon to End Human Trafficking: Train, Sustain, and Focus." Dr. Rumala will be addressing the topics of health equity and social justice on Saturday, March 5th during the Healthcare Session.
The Ensure Justice Conference is a two-day event designed to equip teachers, thought leaders, law enforcement, students, and community members to protect and intervene for women and children at high risk of exploitation and violence. The Ensure Justice Conference is hosted by the Global Center for Women and Justice at Vanguard University.
Dr. Rumala is both extremely knowledgeable and passionate about health equity and social justice subject matter. Her presentation will greatly benefit all of those in attendance at the Ensure Justice Conference.
Dr. Angela Hegamin, Interim Dean, College of Health and Human Services
Dr. Rumala earned a Ph.D. with a Health Equity focus from Columbia University in New York, NY. She holds three master's degrees from Columbia, including a Master of Philosophy with a Health Equity focus, a Master of Education in International Education Development, and a Master of Arts in Health Education with a health disparities concentration. Additionally, she served as a Fulbright Fogarty fellow.
Dr. Rumala's professional expertise and interests are in the areas of creative innovative leadership, public health, social determinants of health and education equity, community based participatory research, and STEM (science, technology, engineering, and mathematics/health professions) practitioner diversity. During her time at Trident, she has helped to launch both the Culture of Research and Education (CORE) and Public Health Talks webinar series.
Other scheduled speakers at the Ensure Justice Conference include Dr. Sandra Morgan, Director of the Global Center for Women and Justice, the Honorable Maria Hernandez, Orange County Juvenile Court Presiding Judge, Deborah Augustine, Drug Enforcement Administration, and Dr. Laura Lederer, President of Global Centurion Foundation.
Trident's College of Health and Human Services offers programs at the bachelor's, master's, and doctoral levels, preparing graduates for future success through the evidence-based decision-making and critical analysis of current issues facing professionals in these fields. In particular, the PhD program offers concentrations in Public Health, Global Health, Health Education and Health Policy and Administration, as well as a Graduate Certificate Program in Public Health.
Trident, a leading 100% online post-secondary institution that offers degrees at the bachelors, masters, and doctorate levels, is committed to its community of adult learners and over 28,000 alumni. Founded in 1998, the University is regionally accredited by the Western Association of Schools and Colleges (WASC) Senior College and University Commission.
About Trident University 
Founded in 1998, Trident University International (Trident) is a leading online post-secondary university serving adult learners. Trident developed the Trident Learning Model, which employs case-based learning in an online setting to teach real-world relevant critical thinking skills to enhance student's lives and careers. Trident offers high-quality bachelors, masters, and doctoral degree programs, led by a qualified faculty team, over 80% of whom have doctoral degrees. Visit www.trident.edu, Trident's Facebook page, or call at to learn more about Trident's wide range of program offerings.