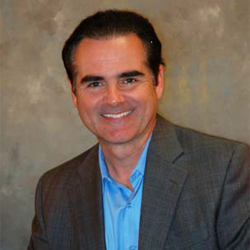 November 21, 2018 – Cypress, CA – Trident University International (Trident) is proud to announce that Dr. Frank Nolan is the recipient of its Teaching Excellence Award for the Summer 2018 quarter. In total, 58 Trident faculty members were nominated, and Dr. Nolan was selected by University leadership based on the strength of positive feedback submitted by his students.
Dr. Nolan is currently a professor in the Glenn R. Jones College of Business where he has recently taught Management and Organizational Behavior, Marketing Management, and Customer Relationship Management.
Dr. Nolan's daily input increased my desire to be more involved in class and learning about the subject matter. He is always available and goes out of his way to make students feel valued. He is a valuable asset, not only to Trident, but to those that are lucky enough to have him as a professor.
Stacey Jameson, Master of Business Administration student
With experience in both industry and academia, Dr. Nolan currently serves as the Vice President of Marketing and Communications for a non-profit that does language translation work in developing countries. This role allows him to visit remote and interesting parts of the world, giving him an opportunity to see the benefits of the organization's work in person.
Prior to this, he worked in senior management positions for PepsiCo and Circuit City, and as an executive for two automotive companies.
Dr. Nolan also serves on the Board of Directors of Global South Services, an international private asset management firm specializing in investments in emerging markets. His areas of expertise include management and organizational behavior, marketing, and international business.
Dr. Nolan earned a Ph.D. in Business Administration from Touro University International, a Master of Business Administration from Regis University, and a Bachelor of Science in Business Administration from the University of Illinois, Urbana.
About Trident University 
Founded in 1998, Trident University International (Trident) is a leading online postsecondary university serving adult learners. Trident uses the EdActive™ learning approach, which employs case-based learning in an online setting to teach real-world relevant critical thinking skills to enhance the lives and careers of students. Trident offers high-quality bachelors, masters, and doctoral degree programs and certificates, led by a qualified faculty team, over 80% of whom have doctoral degrees. Trident is regionally accredited by the WASC Senior College and University Commission (WSCUC) and has over 32,000 alumni, including more than 27,000 with a military affiliation. The University has received multiple acknowledgements from Military Times, Victory Media's Military Friendly Schools, and Military Advanced Education & Transition for their dedication to military-affiliated students. Visit www.trident.edu, Trident's Facebook page, or call at to learn more about Trident's wide range of educational options.