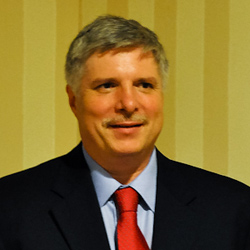 November 9, 2017 – Cypress, CA – Trident University International (Trident) today announced that faculty member Dr. Roy Constantine has made multiple presentations and published research over the past month.
Dr. Constantine presented at the 17th Annual Continuing Medical Education Meeting and Surgical Update in San Diego from Oct. 19th-22nd. The meeting was intended to raise the educational quality and diversity of the American Association of Surgical Physician Assistants conference and further develop the professionalism of the Physician Assistant Fellow. Such cutting-edge topics as Healthcare Reform, Blood Component Therapies, History of Surgical PAs, Trauma and Safe Opioid Prescribing, and other issues relevant to the day-to-day practice of the Surgical Physician Assistant were featured.
Dr. Constantine presented two critical topics: "Leadership Summit Series – Showing Value to Administrative and Terminal Degrees" and "A Review of the Literature – Common Bile Duct Injuries."
He also presented "Patient Safety Initiatives" at the New York Association for Healthcare Quality – Fall Education Conference on Oct. 13th.
Elsewhere, Dr. Constantine just moderated the Society of Critical Care Medicine's webcast, "Processes that Maximize Advanced Practice Provider (APP) Onboarding and Competency," with presenters Vishal Bakshi, PA-C, Chief APP Intensivist of Emory Healthcare in Atlanta, and Deborah E. Stein, ACNP-BC, CCRN, Clinical Program Director, NP Fellowship, of Memorial Sloan Kettering Cancer Center in New York.
As a faculty member in Trident's College of Health and Human Services since 2007, Dr. Constantine holds a Ph.D. in Health Education and Research from Trident, a Master of Public Health in Health Policy and Management from New York Medical College, an RPA/Physician Assistant from Cornell University, and a Bachelor of Science in Health Administration from St. Joseph's College.
Dr. Constantine is currently Assistant Director of Mid-level Practitioners at St. Francis Hospital in New York. He is a Distinguished Fellow American Association of Physician Assistants (DFAAPA), as well as a Fellow of the Society of Critical Care Medicine (FCCM).
About Trident University 
Founded in 1998, Trident University International (Trident) is a leading online postsecondary university serving adult learners. Trident uses the EdActive learning approach, which employs case-based learning in an online setting to teach real-world relevant critical thinking skills to enhance the lives and careers of students. Trident offers high-quality bachelors, masters, and doctoral degree programs and certificates, led by a qualified faculty team, over 80% of whom have doctoral degrees. Trident is regionally accredited by the WASC Senior College and University Commission (WSCUC) and has over 32,000 alumni, including more than 27,000 with a military affiliation. The University has received multiple acknowledgements from Military Times, Victory Media's Military Friendly Schools, and Military Advanced Education & Transition for their dedication to military-affiliated students. Visit www.trident.edu, Trident's Facebook page, or call at to learn more about Trident's wide range of educational options.