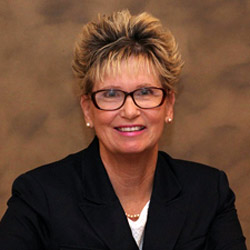 October 9, 2018 – Cypress, CA – Trident University International (Trident) professor Dr. Tina Lamb has spent her time and energy helping out active duty and military veterans in her hometown of Wisconsin Rapids, WI.
In conjunction with the Wisconsin Rapids Elks Lodge No. 693, and the Wisconsin Rapids Rafters, a Northwoods League amateur baseball team, her efforts helped 238 men and women with a military background to attend games on "Military Mondays" for free during the season. Additionally, she helped to raise $2,000 for residents of the local Veterans Home of Wisconsin to purchase clothing and items for personal hygiene.
Dr. Lamb currently serves on the Board of Directors for Wisconsin Rapids Elks Lodge No. 693 and is a veteran of the U.S. Armed Forces.
Joining Trident in 2009, Dr. Lamb became a full-time Professor of Human Resource Management in the Glenn R. Jones College of Business in October 2018. She has previously held numerous roles in higher education, including professor, campus dean, and vice president, both in the United States and abroad.
Dr. Lamb has a Ph.D. in Organization and Management from Capella University, a Master of Business Administration from Strayer University, and a Bachelor of Science in Business Administration from Marian University in Indianapolis.
About Trident University 
Founded in 1998, Trident University International (Trident) is a leading online postsecondary university serving adult learners. Trident uses the EdActive™ learning approach, which employs case-based learning in an online setting to teach real-world relevant critical thinking skills to enhance the lives and careers of students. Trident offers high-quality bachelors, masters, and doctoral degree programs and certificates, led by a qualified faculty team, over 80% of whom have doctoral degrees. Trident is regionally accredited by the WASC Senior College and University Commission (WSCUC) and has over 32,000 alumni, including more than 27,000 with a military affiliation. The University has received multiple acknowledgements from Military Times, Victory Media's Military Friendly Schools, and Military Advanced Education & Transition for their dedication to military-affiliated students. Visit www.trident.edu, Trident's Facebook page, or call at to learn more about Trident's wide range of educational options.