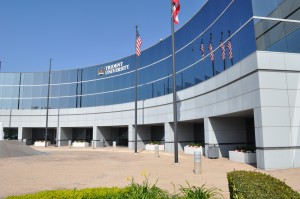 Cypress, CA, October 17, 2011 – Trident University International (TUI) is pleased to announce the opening of a new and expanded university headquarters. This facility is located adjacent to the former headquarters and was designed to improve the educational experience for TUI students and professors.
The upgraded TUI facilities feature new and exciting amenities including a state-of–the-art data center, break out areas for faculty and staff meetings, a formal training center for student services, and an ergonomically efficient, open workspace. An additional 20,000 square feet of space will also provide new opportunities for the Student One Stop, admissions and student advising departments to work cohesively to enhance student support.
"Our new headquarters illustrates the vibrancy, expansion and strength of our university," said Nolan Miura, president and CEO, Trident University International. "These facilities provide faculty and staff with an ideal, collaborative setting to better assist students and to ensure the highest quality educational experience for years to come."
To design the new headquarters, TUI assembled a team of project mangers who sought input from faculty and staff to create the desired student supportive, flexible and efficient environment.
"We aspired to design a facility that provided an ideal working environment for university faculty and staff, while maintaining a collegiate atmosphere that serves as reminder about the importance of our students, their education, and our role in helping them realize their goals," continued Miura. "This new headquarters meets and exceeds those aspirations."
About Trident University International (TUI)
Founded in 1998, Trident University International (TUI) is a leading online postsecondary university serving all members of the military family. Its pioneering Robust Learning Model (RLM) and proven online methodologies empower students to earn high-quality Baccalaureate, Master's and Doctoral degrees. TUI offers academic excellence, as over 80% of its Faculty members have Doctoral Degrees. They use a real-world, practical curriculum that provides students with the tools to enhance their lives and can help further their careers.