O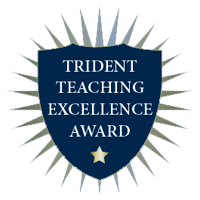 ctober 25, 2017 – Cypress, CA – Trident University International (Trident) today announced that Dr. Ryan Dwight was awarded the Teaching Excellence Award for Spring 2017.
Dr. Dwight was selected from among 58 faculty members by both students and the University's faculty leadership team.
The faculty nominees for this award are selected entirely by Trident's student body. The fact that Dr. Dwight is honored with this award is a testament to both his dedication to teaching and his connection with his students.
Dr. Mihaela Tanasescu, Trident's Provost and Chief Academic Officer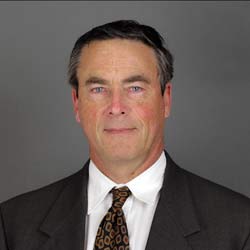 Dr. Dwight has been a faculty member since 2010, and is currently teaching graduate courses in the College of Health and Human Services. Throughout his tenure, he has also taught undergraduate, masters and doctoral courses in public health, research and policy. Additionally, Dr. Dwight serves as Director of the Coastal Water Research Group based in Huntington Beach, California.
Dr. Dwight received a Bachelor of Arts in Biology and Organic Chemistry from University of California, San Diego, and a doctorate in Environmental Health Science and Policy from University of California, Irvine in 2001.
Like many of Trident's faculty, he has worked in both academia and the private sector. Across a 30-year career, he worked as a marine microbiologist and research diver at Scripps Institution of Oceanography where he collected and tested marine organisms for novel pharmaceuticals. He has also worked at the Smithsonian Institution in Washington, D.C., in preparation for the first Earth Summit.
About Trident University 
Founded in 1998, Trident University International (Trident) is a leading online postsecondary university serving adult learners. Trident uses the EdActive learning approach, which employs case-based learning in an online setting to teach real-world relevant critical thinking skills to enhance the lives and careers of students. Trident offers high-quality bachelors, masters, and doctoral degree programs and certificates, led by a qualified faculty team, over 80% of whom have doctoral degrees. Trident is regionally accredited by the WASC Senior College and University Commission (WSCUC) and has over 32,000 alumni, including more than 27,000 with a military affiliation. The University has received multiple acknowledgements from Military Times, Victory Media's Military Friendly Schools, and Military Advanced Education & Transition for their dedication to military-affiliated students. Visit www.trident.edu, Trident's Facebook page, or call at to learn more about Trident's wide range of educational options.