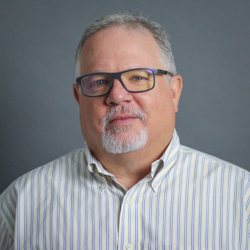 October 31, 2018 – Cypress, CA – Trident University International (Trident) is proud to announce the addition of Dr. Mark Young to its Glenn R. Jones College of Business. A full-time member of faculty, Dr. Young will be teaching management and leadership courses.
An experienced university-level instructor, Dr. Young joined Trident in 2018 as a part-time professor. Additionally, he has 25 years of experience in the business world where in served in a variety of leadership and decision-making capacities.
Dr. Young's previous corporate experience includes National Sales Director of HSS, Inc., Regional Director of Mars, Inc., and several start-up roles in consulting and sound engineering. He also served as Divisional Vice President for Strategic and Academic Partnerships at Ashford University.
Dr. Young earned a Doctorate in Psychology in Organizational Leadership and Development from the University of the Rockies. He received a Master of Business Administration from University of Phoenix and a Bachelor of Science in Business Administration from Averett University in Danville, VA.
He is a published researcher, and is a member of the Council of College and Military Educators (CCME) and the Society for Human Resource Management (SHRM).
About Trident University 
Founded in 1998, Trident University International (Trident) is a leading online postsecondary university serving adult learners. Trident uses the EdActive™ learning approach, which employs case-based learning in an online setting to teach real-world relevant critical thinking skills to enhance the lives and careers of students. Trident offers high-quality bachelors, masters, and doctoral degree programs and certificates, led by a qualified faculty team, over 80% of whom have doctoral degrees. Trident is regionally accredited by the WASC Senior College and University Commission (WSCUC) and has over 32,000 alumni, including more than 27,000 with a military affiliation. The University has received multiple acknowledgements from Military Times, Victory Media's Military Friendly Schools, and Military Advanced Education & Transition for their dedication to military-affiliated students. Visit www.trident.edu, Trident's Facebook page, or call at to learn more about Trident's wide range of educational options.