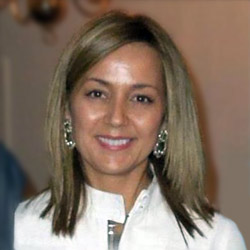 September 15, 2017 – Cypress, CA – Dr. Cynthia Keifer has been awarded Trident University International's (Trident) Teaching Excellence Award for Winter 2017. Dr. Keifer joined Trident in 2015 and is a Professor in Trident's Glenn R. Jones College of Business. She has instructed both human resources management and leadership courses during her tenure.
Dr. Keifer was selected from among 40 faculty members nominated entirely by students, and based on the strength of commendations from students and faculty leadership.
Having a professor at Trident like Dr. Keifer, who exemplifies compassionate commitment, is important in helping us to solidify a positive experience for our students.
Dr. Mihaela Tanasescu, Provost and Chief Academic Officer at Trident
Dr. Keifer earned a Ph.D. in Business Administration from Northcentral University in Scottsdale, AZ. She received a Master of Aeronautical Science, with a specialization in Management, from Embry-Riddle Aeronautical University, and a Bachelor in Applied Science in Resource Management from Troy State University.
In addition to Trident, Dr. Keifer has instructed at Jones International University and Embry-Riddle Aeronautical University, where she served as Director of Academics and Faculty Chair. She is a published researcher who sits on the editorial board for the Journal of Business Studies Quarterly. Dr. Keifer was on active duty with the United States Air Force from 1991 to 1997.
The 100% online Trident has been in operation since 1998 and is regionally accredited by the WASC Senior College and University Commission (WSCUC). Active duty military, veterans, National Guard, and military dependents make up 79% of the University's student population, and Trident is proud to employ many veterans at its faculty, staff, and management levels. Of Trident's 32,000 alumni, more than 27,000 have a military affiliation.
About Trident University 
Founded in 1998, Trident University International (Trident) is a leading online post-secondary university serving adult learners. Trident developed the Trident Learning Model, which employs case-based learning in an online setting to teach real-world relevant critical thinking skills to enhance student's lives and careers. Trident offers high-quality bachelors, masters, and doctoral degree programs, led by a qualified faculty team, over 80% of whom have doctoral degrees. Visit www.trident.edu, Trident's Facebook page, or call at to learn more about Trident's wide range of program offerings.