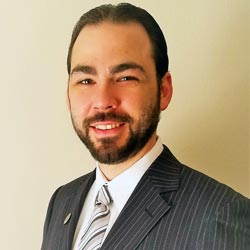 June 11, 2019 – Cypress, CA – Trident University International (Trident) is pleased to announce the addition of Dr. Christopher Linski to the Glenn R. Jones of College of Business as Professor of Doctoral Studies in the Doctor of Business Administration (DBA) program.
In this role, Dr. Linski will be providing guidance to students on the research process for the DBA Doctoral Study Project and enhancing the program's courses and curriculum. As a crucial component in the program, he will be working closely with students as they work towards the successful completion of their degree.
Dr. Linski has a strong scholar-practitioner background, including serving as a Doctoral Professor at Colorado Technical University and Senior Doctoral Dissertation Chair at Grand Canyon University. Other professional roles held include Manager of Security Operations at Advantage Security and Principal Consultant at CML3 Consulting.
Additionally, Dr. Linski is a military veteran, and has served as a member of various community boards and committees in the fields of juvenile criminal justice, professional development, and doctoral academics.
Dr. Linski's research interests include military leadership behavior, higher education support for disabled student-veterans, and nonprofit organization interventions. His published research includes, "Assisting student-veterans with hidden wounds: Evaluating student support in U.S. higher education," which appears in Innovations in Higher Education Teaching and Learning (Vol. 14).
Passionate about giving back to the military veteran community, Dr. Linski has served as an executive officer for the Veterans of Foreign Wars. He has also held roles as Executive Director of the Colorado Transitioning Veterans Association and participated in the Professional Growth Committee for the Colorado Springs Rising Professionals.
Dr. Linski holds a Post-Doctorate in Higher Education Leadership, a Doctor of Management in Organizational Development and Change, a Master of Science in Management, and a Bachelor of Science in Criminal Justice all from Colorado Technical University.
About Trident University 
Founded in 1998, Trident University International (Trident) is a leading online postsecondary university serving adult learners. Trident uses the EdActive™ learning approach, which employs case-based learning in an online setting to teach real-world relevant critical thinking skills to enhance the lives and careers of students. Trident offers high-quality bachelors, masters, and doctoral degree programs and certificates, led by a qualified faculty team, over 80% of whom have doctoral degrees. Trident is regionally accredited by the WASC Senior College and University Commission (WSCUC) and has over 32,000 alumni, including more than 27,000 with a military affiliation. The University has received multiple acknowledgements from Military Times, Victory Media's Military Friendly Schools, and Military Advanced Education & Transition for their dedication to military-affiliated students. Visit www.trident.edu, Trident's Facebook page, or call at to learn more about Trident's wide range of educational options.