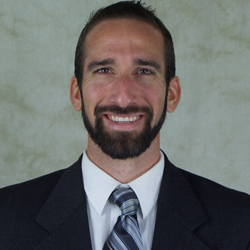 Dr. George del Hierro Jr.
Full-time Faculty - University College
Professor del Hierro's professional foundation is in student advising. This experience grounds his teaching philosophy and interaction with students. Professor del Hierro spent 6 years in progressive leadership roles in curricular and co-curricular areas at traditional and distance learning environments. He developed a deep passion and expertise in supporting at-risk student populations who experience academic difficulty. He is actively engaged in institutional self-review and external regional WASC accreditation processes, which gives him a firm understanding of accreditation planning processes; evaluation activities; preparation of WASC reports; and review processes that align with WASC Standards and Criteria for Review (CFRs). Professor del Hierro completed his dissertation on the Effects of Person-Environment Congruence on Faculty Satisfaction, Retention, and Performance.
Favorite Quote
The journey of a thousand miles begins with one step. Lao Tzu
Presentations
Behbehani M., Maxfield, L., Ramirez, S., del Hierro, G.M, & Gonzalez, C. (2006, April). The roles of altruism and culture in determining prospective memory. Paper presented at the 86th Annual meeting of the Western Psychological Association, Palm Springs, CA.
del Hierro, G.M., Gray, J., Hibbard, K. M., Morley, B.S., & Murphy, K.A. (2009, April). Assessing the climate for acceptance of gay, lesbian, and bisexual students in greek organizations. Paper presented at the 36th Annual meeting of the Group Assessment Project Presentations, Indiana University.
Areas of Expertise
Dr. del Hierro's areas of expertise include:
Student Success
Person-Environment Congruence
Andragogy
Research Methods
Education Leadership
Distance Learning
Advising
Program Evaluation
Education History
Ph.D in Education Leadership - Trident University International (2019)
MBA in Finance - Trident University International (2013)
B.A. in Psychology - California State University, Long Beach (2007)
Associations
Western Association for Schools and Colleges (WASC) Evaluator: 2012 - Present
National Resource Center for the First Year Experience and Students in Transition: 2010 - Present
Indiana University Student Personnel Association: 2008 - Present
Honors & Awards
Motivate Students Award, Manager's Nomination, Trident University International (April 2014)