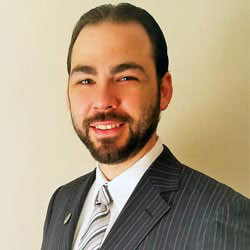 Full-time Faculty - Glenn R. Jones College of Business
Dr. Christopher Linski completed his doctorate in management and post-doctorate in higher education leadership from Colorado Technical University. Some of his scholar-practitioner research has included the examination of Army noncommissioned officers' leadership behaviors, higher education support for disabled student-veterans, nonprofit organization interventions, and generational shifts in theological preferences. His teaching experience includes undergraduate, graduate, and doctoral programs in criminal justice, homeland security, business management, executive leadership, and research.
Dr. Linski began his professional background with military service during the Global War on Terrorism and Operation Iraqi Freedom. After retiring, he began work as a civilian employee for the Department of Defense. His passion for military veterans continued through the creation of a student veteran organization and a transitioning veterans organization. He is also an executive officer for the Veterans of Foreign Wars.
Additionally, Dr. Linski owns and operates a management consulting company in Colorado, focusing on human capital and process improvement. He has also served as a member of various community Boards and Committees in the fields of juvenile criminal justice, professional development, and doctoral academics. He specializes in providing companies with strategic guidance and organizational development expertise.
It is an honor and a privilege to be part of the academic journey for our students.

Dr. Christopher Linski
Programs
Doctor of Business Administration (DBA)
Publications
Dwight, Catlin, Fernandez, 2012, Amounts and distribution of recreational beach expenditures in southern California, Ocean and Coastal Management, 59(2012):13-19Linski, C.M. (2013, Winter). Process Consultation and law enforcement: A practitioner's case study report. Organization Development Journal, 31(4),63-73.
Linski, C.M. (2014, Fall). Transitioning to participative management. Organization Development Journal, 32(3), 17-26.
Linski, C.M. (2014, December). The Leadership-Morale Connection: Essentials for Army noncommissioned officer leadership in the garrison environment (Doctoral dissertation). Colorado Technical University. Colorado Springs, CO: ProQuest. (Accession Order No. 3687309).
Linski, C.M. (2016). Understanding ethical decision-making. In C. Linski, J. Curry, M. Karabekou, R. Newman, & R. Holloway (Eds.), Ethics and morality for criminal justice practitioners: How to handle ethical dilemmas (chap. 7). Words of Wisdom.
Linski, C.M. (2017). Skattered memories: Traveling through the past with hidden wounds. Charleston, NC: CreateSpace Independent Publishing.
Linski, C.M. (2018). Assisting student-veterans with hidden wounds: Evaluating student support in U.S. higher education. In P. Blessinger, J. Hoffman, & M. Makhanya (Eds.), Innovations in Higher Education Teaching and Learning: Vol. 14. Perspectives on Diverse Student Identities in Higher Education: International perspectives on equity and inclusion (pp.29 – 45). doi:10.1108/S2055-364120180000014004.
Mathews, B., & Linski, C.M. (2016). Shifting the paradigm: Reevaluating resistance to organizational change. Journal of Organizational Change Management, 29(6), 963-972. doi:10.1108/JOCM-03-2016-0058.
Milbrandt, J., DePorres, D., Linski, C.M., & Ackley, E. (2018). Tell me a story: Exploring values in practice in the field of OD. In A. Church, J. Vogelsang, & D. Jamieson (Eds.), Enacting values-based change: Organization development in action. Basingstoke, U.K.: Palgrave MacMillan. doi:10.1007/978-3-319-69590-7.
Professional Experience
Conducts evaluation processes for broad analyses of organizations and recommends solutions to complex problems by communicating to teams and senior leadership.
Applies analytical and evaluative techniques to the identification, consideration, and resolution of issues concerning efficiency and effectiveness of program operations.
Conducts qualitative and quantitative data collection and analysis to gain knowledge about organizational missions, functions, and work procedures.
Maintains leadership roles and collaborates within cross-functional and remote teams.
Certified Independent Trainer
Human Subjects Management Researcher
Education History
Doctor of Management in Organizational Development and Change - Colorado Technical University (2014)
Post-Doctorate in Higher Education Leadership - Colorado Technical University (2017)
MS in Management: Homeland Security - Colorado Technical University (2012)
BS in Criminal Justice - Colorado Technical University (2011)
Associations
Commander & Chief Executive, Veterans of Foreign Wars, 2004–Present
Vice Chair, Board of Directors, Colorado Springs Teen Court, 2016–2018
Executive Director, Colorado Transitioning Veterans Association, 2016–2017
Professional Growth Committee, Colorado Springs Rising Professionals, 2016–2017