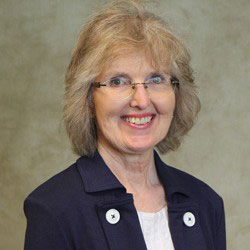 Department Chair in Human Resources and Criminal Justice Administration - Glenn R. Jones College of Business
Dr. Peggy Swigart is a professional in the field of human resource management, with over twenty years as a human resource practitioner. She also teaches human resource management at both the graduate and undergraduate levels.
At Trident Dr. Swigart is a facilitator of learning, in her own classes as well as serving as a mentor to fellow professors. She enjoys planning curriculum and interacting with classmates. In fact, she says the best parts of her day are when she is interacting with them either one-on-one or in a discussion setting. She stays attune to the variety of learning styles classmates have, what they bring to the classroom, and what they desire to learn. She emphasizes her availability for informal discussion and her willingness to help them sort out learning content issues. She says their feedback continually challenges her to grow as a professor and faculty mentor.
Dr. Swigart enjoys the opportunity to follow the progress of learners through the program and sometimes beyond graduation. Teaching is her primary professional responsibility and she has enlarged that scope by moving into a department chair position where she is also involved with teaching, administration, and faculty development. This gives her the opportunity to get to know not only classmates but fellow professors as well.
Dr Swigart has an open door to influence the learning climate here at Trident. With her human resource practitioner background working in an academic setting, she benefits from those who are eager to learn an interesting and applied subject. Moreover, there is a wealth of change going on in the HRM field, and Dr. Swigart is excited to be a small part of that transformation.
Her strategies for curriculum planning and teaching include articulating clear learning outcomes in both undergraduate and graduate-level HRM courses. Furthermore, classmates must be encouraged to actively determine what and how they learn. With this in mind, they are able to develop the life-long learning skills needed to stay abreast of the changes ahead.
One of her most challenging roles at Trident is in the area of course enhancement as it relates to student learning. She does not take lightly the importance of advancements in the assessment of student learning while developing courses. She continues to work with her colleagues and students to improve student learning and to demonstrate that learning outcomes achievement is the heartbeat of quality instruction.
Favorite Quote
If a man is called to be a street sweeper, he should sweep streets even as a Michelangelo painted, or Beethoven composed music or Shakespeare wrote poetry. He should sweep streets so well that all the hosts of heaven and earth will pause to say, 'Here lived a great street sweeper who did his job well'. Dr. Martin Luther King Jr.
Programs
Bachelor of Science in Business Administration
Bachelor of Science in Human Resource Management
Master of Business Administration
Master of Science in Human Resource Management
Publications
Swigart, P. (September 2016). Leverage the power of simplicity. TD Magazine, P. 74.
Swigart, P. (June 2015). An untapped competitive advantage. T + D journal, p. 66.
Swigart, P. (Feb. 2014). How to be cultured. T + D Journal, p. 66.
Swigart, P. (June 2013). Sea change needed in succession planning. T + D Journal, p. 76.
Swigart, P. (July 2011). Taking charge of learning. T+D. Journal, p. 74.
Areas of Expertise
Dr. Peggy Swigart's areas of expertise include:
Human Resource Management
Business Administration
Curriculum Planning
Education History
Ph.D. in Business Administration - University of Nebraska
MBA - Western Illinois University
BA - Upper Iowa University
Associations
Association for Talent Development
Society for Human Resource Management
Honors & Awards
FY Trustee Award for Faculty, Trident University International, 2016